Join Our Escorted Sailing in April 2021 on Royal Clipper
For a truly special bucket list experience why not join our Escorted Sailing on the record breaking Royal Clipper. Sail 5 nights from Lisbon to Malaga on this truly unique ship along with Carol and like minded travellers.
Departs from Lisbon on 19th April 2021.  Cruise only from £1190pp based on 2 sharing.
The Early Booking Discount for this sailing has been extended and is still available.
The trip also entails flights to Lisbon and from Malaga and a 1 night hotel stay in Lisbon.
Royal Clipper is officially the largest full rigged sailing ship in service in the world, as listed in the Guinness Book of World Records. Built in 2000 and based on The Preussen, a German ship that ruled the waves in 1902, Royal Clipper balances grandeur with adventure and tradition. A crew of 106 look after 227 guests in 5 star luxury. Although this beautiful ship may be inspired by history and nostalgia she boasts the latest in navigational technology and modern comforts for passengers. You can take a virtual tour on the Star Clippers website to see exactly what she has to offer by clicking here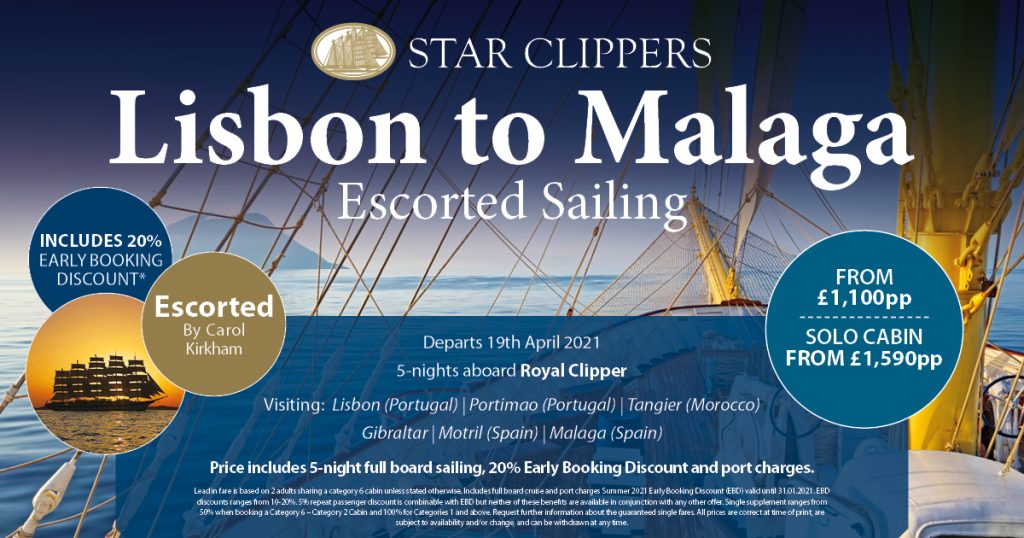 This video of Carol's earlier trip on Star Flyer out of Venice gives a taste of what to expect aboard her larger sister ship.